The Real World: St. Thomas is the twenty-seventh season of the reality television series, The Real World, which follows seven strangers living in a house together as cameras follow their every move and interpersonal relationships.
This season was filmed in St. Thomas of the U.S. Virgin Islands. It is the first to film in the Carribean and the second season to film outside of the contiguous United States following The Real World: Hawaii.
Assignment
Starting with The Real World: Miami, each season required the cast to participate in a season-long group project or group job. This season, the roommates worked at the Coral World Ocean Park in St. Thomas.
Residence
The cast lived in a villa on Hassel Island, which is the property of the Virgin Islands National Park with a small area owned by the Virgin Islands Ports Authority. The season residence was located on an isolated estate across the bay from Charlotte Amalie, St. Thomas, the capital of the US. Virgin Islands. The cast had access to motorboats to go across the bay from the house to the city and back.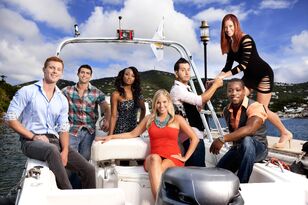 Cast
Note: (*) Age at the start of filming.
Episodes
| # | Title | Original Air Date | Viewers (millions) |
| --- | --- | --- | --- |
| 1 | "Paradise Found" | June 27, 2012 | 1.20 |
| 2 | "99 Problems But the Beach Ain't One" | July 4, 2012 | 0.86 |
| 3 | "Roommates Become Bedmates" | July 11, 2012 | 0.88 |
| 4 | "To Pee or Not to Pee" | July 18, 2012 | 1.13 |
| 5 | "Clean Break" | July 25, 2012 | 1.16 |
| 6 | "Smells Like Green Spirits" | August 1, 2012 | 1.23 |
| 7 | "No Shirt, Boat Shoes, No Sanity" | August 8, 2012 | 0.94 |
| 8 | "Hurts So Good" | August 15, 2012 | 1.23 |
| 9 | "Who Done It?" | August 22, 2012 | 1.11 |
| 10 | "Of Vice and Men" | August 29, 2012 | 1.09 |
| 11 | "Should I Stay or Should I Blow?" | September 5, 2012 | 1.06 |
| 12 | "Flyin' the Coop" | September 12, 2012 | 0.99 |