The Real World: San Diego is the twenty-sixth season of the reality television series, The Real World, which follows seven strangers living in a house together as cameras follow their everyday lives and interpersonal relationships.
It is the second season to be filmed in San Diego following season 14 and it is the show's fifth season to be filmed in California.
Assignment
Every season since the fifth, all cast members were required to work or else they will be removed. This season, the cast worked at the House of Blues.
Residence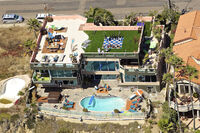 The cast resided in a beach house in La Jolla. The house belonged to an unnamed celebrity. The house was refurnished because he did not want any of his property to be destroyed.
Cast
Note: (*) Age at the start of filming
Episodes
| # | Title | Original Air Date | Viewership (in millions) |
| --- | --- | --- | --- |
| 1 | "First Impressions" | September 28, 2019 | 1.94 |
| 2 | "Danas, Derrieres, and Drama" | October 5, 2011 | 1.22 |
| 3 | "A Pig Walks Into a Gay Bar..." | October 12, 2011 | 1.49 |
| 4 | "Hair Raizing Arguments and Sticky Situations" | October 19, 2011 | 1.29 |
| 5 | "Over the Rainbow" | October 26, 2011 | 1.54 |
| 6 | "Pride and Prejudice" | November 2, 2011 | 1.42 |
| 7 | "It's My Party and I'll Bang If I Want To" | November 9, 2011 | 1.23 |
| 8 | "Stolen Show, Stolen Hearts, Stolen Motorcycle" | Novemeber 16, 2011 | 1.34 |
| 9 | "All the Wrong Moves" | November 30, 2011 | 1.12 |
| 10 | "Camp Out, Sing Out, Drag Out" | December 7, 2011 | 1.32 |
| 11 | "Tick, Tick, Cabo-oom!" | December 14, 2011 | 1.40 |
| 12 | "An End to an Endless Summer" | December 21, 2011 | 1.39 |