The Real World: Portland is the twenty-ninth season of the reality television series, The Real World, which features seven strangers living in a house together as cameras follow their everyday lives and interpersonal relationships.
It is the last season to feature the "This is the true story..." opening as the show made major changes to its format in the following season.
Season changes
At the start of each episode, the title of the episode will appear, an edit unseen before in any other season. This season did not give the cast any assignment.
Employment
Rather than having an assignment, production required the cast to pursue work while staying in Portland. If a roommate decided to leave their job or they were to get fired, they will be removed from the show and be replaced. The cast worked at jobs approved by production.
Joi was displeased with the work conditions of her job, which was a part of the reason why she left. Nia was fired from her job, but she was allowed to stay for the remainder of the season.
Residence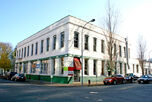 The cast lived in a loft on 338 NW 9th Avenue in Portland, Oregon. Before filming, the loft was on sale for nearly $3.5 million. Local business were located on the first floor of the loft, while the second floor was renovated as a living space for the Season 28 roommates.
Cast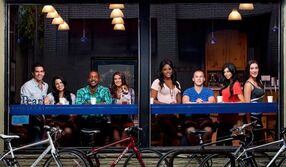 Notes
(*) Age at the start of filming
Nia served as a replacement for Joi. She arrived in the house in Episode 4
Episodes
| # | Title | Original Air Date | Viewership (in millions) |
| --- | --- | --- | --- |
| 1 | "Bondage, Butts, and Burlesque" | March 27, 2013 | 0.72 |
| 2 | "Hot Air Jordan" | April 3, 2013 | 0.96 |
| 3 | "Hot and Bothered" | April 10. 2013 | 0.99 |
| 4 | "New Chick, Little D***" | April 17, 2013 | 1.15 |
| 5 | "I Want Romance Not No Pants" | April 24, 2013 | 0.89 |
| 6 | "How To Play The Game" | May 1, 2013 | 1.02 |
| 7 | "The A-Nia-Lation Proclamation" | May 8, 2013 | 0.90 |
| 8 | "Pantsfall" | May 15, 2013 | 0.91 |
| 9 | "Heartbreak Hotel" | May 22, 2013 | 0.8 |
| 10 | "Sins of the Flesh (eaters)" | May 29, 2013 | 1.08 |
| 11 | "Welcome to the Sh** Show!" | June 5, 2013 | 1.01 |
| 12 | "Out With A Bang!" | June 12, 2013 | 1.05 |
| - | "Reunion" | June 12, 2013 | - |
Gallery