The Real World: California (retrospectively referred to as The Real World: Los Angeles, to distinguish it from subsequent installments of the series) is the second season of MTV's reality television series The Real World, which focuses on a group of diverse strangers living together for several months, as the cameras follow their lives and interpersonal relationships. It is the first season of The Real World to be filmed in the Pacific States region of the United States, specifically in California.
Seven of the nine cast members returned for The Real World Homecoming: Los Angeles
Season Changes
This season was expanded to 21 episodes from the original 13 episodes. It is also the first seasons where cast members have left before the end of the season, as well as the first season to feature replacement cast members, which would become a trend in future seasons. It is also the first season where the cast got to go on a trip abroad.
The house in which the cast lived now featured a small sound proof room for the weekly "confessional" cast interviews, and became known itself by that name.
Residence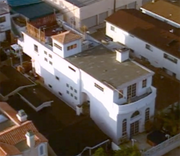 The $2 million (1993 dollars), three-story, 4,520-square-foot (420 m2), four bedroom, four bathroom house is located at 30 30th Avenue in Venice Beach,one block east of the beach. According to the owner, after the filming of the series was complete, the interior and exterior of the house were repainted back to their original pink color. The only room not to be repainted was the room that was renovated into the Confessional room, which was painted blue with white clouds for the filming of the series. When the current owners purchased the house in 1996, the house was painted light blue/gray with a white trim and the interior pink carpeting was changed to gray. A sign outside the house read:
"This area is being used by Bunim-Murray Productions for taping of a television program. By your entrance into this area and your presence, you give unqualified consent to Bunim-Murray to record, use and publicize your voice, actions, likeness and appearance in any manner in connection with the program. If you do not wish to be taped as part of the program, please exit the area until all taping has been completed.
Cast
*Age at the time of filming.