The Real World: Cancun is the twenty-second season of MTV's reality television series The Real World, which focuses on a group of diverse strangers living together for several months in a different city each season, as cameras follow their lives and interpersonal relationships. It is the only season of The Real World to be filmed in Mexico.
It is the fourth season of The Real World to be set outside the United States.
Assignment
The Cancun cast was assigned to work with StudentCity, an organization that helps visiting college students, helping to, as Jonathan Murray puts it, "give people a safe and fun vacation. In Episode 7, the group were assigned to manage the msuic duo LMFAO.
Joey was fired in Episode 8 after repeatedly missing shifts, leading to his eviction.
Residence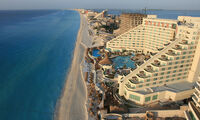 The cast stayed at the ME Cancun resort (now called Melody Maker Cancún) at Boulevard Kukulkan, km. 12 in Cancun, Mexico. The resort is located in the hotel zone between the Beach Palace and Park Royal Piramides resorts. Fifteen hotel rooms were converted into the cast's suite: eleven on the second floor, and four rooms on the third floor. Production Designer Chuck Aubrey used the hotel's signature furnishings to decorate the suite, along with the vivid colors that are typically used by the Real World production to adorn the residences. The suite, like all of the resort's other 418 rooms, features an ocean and sunset lagoon view. The suite is currently available to the public under the name SuiteMe. The suite was later used as the vacation residence for the cast of the 2011 Las Vegas season, as seen in Episode 11 of that season.
Cast
Note: (*) Age at the time of filming.
Episodes
| Episode | Title | Original Air Date |
| --- | --- | --- |
| 1 | "Yes We Cancun!" | June 24, 2009 |
| 2 | "Jerkface Joes and Romeos" | July 1, 2009 |
| 3 | "I Kissed a Girl and I Liked It (At First)" | July 8, 2009 |
| 4 | "Cancun Cassanovas" | July 15, 2009 |
| 5 | "Payback, Piglet, and Projects" | July 22, 2009 |
| 6 | "Flirting With Disaster" | July 29, 2009 |
| 7 | "Peak Week" | August 5, 2009 |
| 8 | "Settling DIF-ferences" | August 12, 2009 |
| 9 | "The Love Square" | August 19, 2009 |
| 10 | "Three's A Crowd" | August 26, 2009 |
| 11 | "Love Bites" | September 2, 2009 |
| 12 | "¡Adios Cancun!" | September 9, 2009 |