The Real World: Back to New York is the tenth season of MTV's reality television series The Real World, which focuses on a group of diverse strangers living together for several months in a different city each season, as cameras follow their lives and interpersonal relationships.
Back to New York is the first season to take place in a city that had hosted a previous season, as the show's first season was set in New York in 1992. The Back to New York season was filmed January 9 to June 2, 2001. It premiered July 3 of that year and consisted of 22 episodes. The cast appeared in a cover feature in the Fall 2001 issue of Time Out New York.
Season changes
Beginning with this season, the producers instituted the new rule that participation in the assignment is mandatory for the cast, and that a roommate who was terminated from the assignment would be evicted from the residence and from the cast.
Assignment
The housemates were assigned jobs as receptionists for Arista Records during the day, and helped gain publicity for their up-and-coming bands at night.
Residence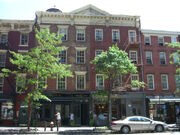 The cast lived in an 8,000-square-foot (740 m2), four story loft at 632 Hudson Street in Manhattan's West Village, just over a mile from the SoHo loft used in the filming of the first season. The building was built in 1847, and for forty years following World War II, housed a Spanish-style sausage factory called the Esteve Packing Corporation. The building was purchased in the early 1990s for $450,000. The 5,000-square-foot (460 m2) third and fourth floors, which included the penthouse level and roof deck, were renovated for the series. The production equipment included 15 video cameras, 29 monitors, 142 studio lights, dozens of microphones, and a mile of cable. After completion of the season, the building was placed on the rental market for special events and short-term stays.
Cast
*Age at the time of filming.
Community content is available under
CC-BY-SA
unless otherwise noted.