Real World: Skeletons is the thirtieth season of the reality televison series, Real World, which features seven strangers living in a house together as cameras follow their every move and interpersonal relationships.
This season was filmed in Chicago in the West Loop area. Skeletons is the second season to be filmed in Chicago following The Real World: Chicago in 2002.
This is the second season to feature a twist following last season. This marked the first time that the show was aired on a night other than Wednesday since season 17's The Real World: Key West. It is also the first season to not have a reunion special following season 10's The Real World: Back to New York.
Season changes
In a similar fashion to Real World: Ex-Plosion, this season featured a twist. The roommates will spend two weeks together getting to know each other. Then, every week, one cast member is faced with a figure from the past, dubbed as "Skeletons". Unlike last season, the Skeletons will only stay in the house for a week.
Residence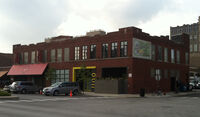 The cast lived in the West Loop neighborhood in Chicago at 1100 W Randolph Street. The house was a former nightclub, named Bon V. During filming, an extra outdoor patio was installed for an outdoor space for the cast, but also as a way to block people from taking pictures of the inside.
Employment
The cast were given the option to pursue work at certain jobs approved by production. This season, the entire cast with the exception of Bruno worked in groups of two as bartenders, bar backs, and waiters at three Chicago Bars.
Cast
Note (*): Age at the start of filming.
Skeletons
Name
Skeleton to
Connection
Episodes
Alcia
Sylvia
Sylvia's boss
4-5
Elizabeth
Tony
Tony's exes
5-7
Alyssa
6-7
Jessica
Violetta
Violetta's bullies
8
Tia
Ashley
Nicole
Nicole's sisters
9
Samantha
Briah
Bruno
Bruno's brother
10
Rachel
Madison
Madison's stepsister
11
Skyler
Madison's ex
12
Lafayette
Jason
Jason's father
13
Episodes
| # | Title | Original Air Date | Viewers (in millions) |
| --- | --- | --- | --- |
| 1 | "Skeleton Keys" | December 16, 2014 | 0.65 |
| 2 | "Love and Other Drugs" | December 23, 2014 | 0.51 |
| 3 | "Three Way" | December 30, 2014 | 0.67 |
| 4 | "Blast From the Past" | January 4, 2015 | 0.84 |
| 5 | "Dirty Laundry" | January 11, 2015 | 0.81 |
| 6 | "A Royal Nightmare" | January 18, 2015 | 1.02 |
| 7 | "All the King's Women" | January 25, 2015 | 1.13 |
| 8 | "Sarasota's Finest" | February 3, 2015 | 0.94 |
| 9 | "Where's the Beef?" | February 10, 2015 | 0.99 |
| 10 | "Brother in Arms" | February 17, 2015 | 0.95 |
| 11 | "Breaking Mad" | February 24, 2015 | 0.86 |
| 12 | "Wine and Roses" | March 3, 2015 | 1.03 |
| 13 | "The Final Skeleton" | March 10, 2015 | 0.97 |