Real World: Go Big or Go Home is the thirty-first season of the reality television series, Real World, which features seven strangers living in a house together as cameras follow their very move and interpersonal relationships.
Go Big or Go Home is the third season filmed in Las Vegas following The Real World: Las Vegas.
It is the third season to feature a twist. This season features a Road Rules-esque twist where the roommates will need to complete "missions" in order to guarantee their stay in the house.
Season changes
Each roommate will have to endure numerous challenges known as "missions" in order to stay in the house. If a roommate does not complete the mission, they will be removed from the house.
This is the first season to introduce another roommate later into the season that was not a replacement for a departed roommate.
Residence
The cast stayed in Downtown Las Vegas for this season. Like the previous Vegas installments, the cast stayed in a luxury penthouse in a hotel. This season, the cast lived in the Gold Spike Hotel in Downtown Vegas in their top floor penthouse. After filming, the Gold Spike used the penthouse as a luxury suite.
Employment
The roommates were allowed to pursue work approved by production during their stay in the house. Christopher and Kailah worked at Downtown Podcast in Las Vegas, but this went unaired.
Cast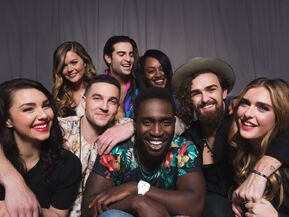 Note
(*) Age at the start of filming.
Dylan arrived as a mid-season twist and joined the house after completing the "Survive" mission.
CeeJai and Jenna were removed from the house in Episode 12 following two physical altercations.
Missions
Missions were tasks that the cast had to complete in order to remain a roommate in the Real World house. The mission titles were displayed along the wall where the house computer was. The missions will be revealed to the cast on the house computer. Missions were either assigned to the entire house, a portion of the house, or a single roommate.
Episode
#
Mission
Description
Participants
Result
Notes
1
1
Jump
Bungee jump from a hot air balloon
CeeJai, Chris, Dean, Dione, Jenna, Kailah, and Sabrina
Complete
2
2
Drag
Dress in drag for the night
Chris, Dean, and Dione
3
Find
Call a number that will help you find your biological mother
Sabrina
3/4
4
Plunge
Go blobbing
CeeJai, Chris, Dean, Dione, Kailah, and Sabrina
Jenna was unable to participate in the mission due to injuring her neck previously. The roommates were given a choice on whether she should stay or not. They chose to let her stay.
5
5
Phobia
Endure 60 seconds of a poisonous spider crawling on you
CeeJai, Chris, Dean, Dione, Jenna, Kailah, and Sabrina
6
Roll
Fly a plane and do aeroacrobatics
7
Truth
Reveal the truth about the leaks
Chris
This mission was not on the wall. This was a private mission given to Chris in the confessional.
6
8
Trek
Trek up a mountain in under 90 minutes
CeeJai, Chris, Dean, Dione, Jenna, Kailah, and Sabrina
7/10
9
Record
Write and produce a song together
Jenna and Sabrina
The mission was introduced in Episode 7, but was not completed until episode 10.
7
10
Baller
Throw a surprise birthday party for Dean
CeeJai, Chris, Dione, Jenna, Kailah, and Sabrina
8
11
Spin
DJ with the Stafford Brothers
Kailah
This mission was edited to seem like it was not a mission. CeeJai stated on Twitter that it was a mission and it can be seen on the wall.
9
12
Survive
Survive the desert for 24 hours.
CeeJai, Chris, Dean, Dione, Dylan, Jenna, Kailah, and Sabrina
Dylan arrived as a surprise roommate. He had to complete this mission in order to guarantee his stay in the house.
9
13
Flaunt
Perform at a male strip club
Dean and Dylan
12
14
Soar
Soar through the SlotZilla zipline on the Fermont Street Experience
Chris, Dean, Dione, Dylan, Kailah, and Sabrina
Additional missions Fear, Yes, Speed, and Fall also took part but were not aired. Fear required Kailah to be in a cave of bats, Speed involved the cast driving rally trucks, Yes required Chris to say yes to what his roommates asked of him for the day, and Fall required the cast to rappel down a cliff. Fall did not include CeeJai and Jenna as both had been removed from the show by the time of the mission. Fall can be seen in the season's trailer.
Episodes
| # | Title | Original Air Date | Viewers (in millions) |
| --- | --- | --- | --- |
| 1 | "The Big Leap" | March 17, 2016 | 0.55 |
| 2 | "If the Dress Fits... Wear It" | March 24, 2016 | 0.50 |
| 3 | "Disaster Down Under" | March 31, 2016 | 0.48 |
| 4 | "Unfriended" | April 7, 2016 | 0.50 |
| 5 | "The Leak" | April 14, 2016 | 0.45 |
| 6 | "Take a Hike" | April 28, 2016 | 0.47 |
| 7 | "The Tipping Point" | May 5, 2016 | 0.47 |
| 8 | "The Carny Queen" | May 12, 2016 | 0.40 |
| 9 | "Shaken and Stirred" | May 12, 2016 | 0.39 |
| 10 | "The Hits Keep Coming" | May 19, 2016 | 0.37 |
| 11 | "Southern Shame" | May 26, 2016 | 0.45 |
| 12 | "They All Go Home" | May 26, 2016 | 0.38 |