Real World: Ex-Plosion is the twenty-ninth season of the reality television series, Real World, which features seven strangers living in a house together as cameras follow their very move and interpersonal relationships.
Ex-Plosion was filmed in San Francisco, marking the second time the city has hosted the show since 1993's The Real World: San Francisco. It is also the sixth season to be filmed in California, following 2011's The Real World: San Diego.
This season marks many big changes to the show's format as it is the first season to feature a twist, which would be a continuing trend in the following seasons.
Season changes
In order to boost ratings back up again, production made many changes to the show's format this season. This season drops the "This is the true story..." opening and was replaced with a new opening.
The season starts off with the original seven roommates getting to know each other for six weeks. They will then go on an off-the-grid vacation, only to be surprised by their exes when they come back.
Employment
The cast was free to pursue any work approved by production. None of the cast, with the exception of Jenny, chose to pursue any work. Ashley C. had a full time job at a San Francisco start-up that she continued during filming. Arielle pursued a film project. Jenny was hired as a go-go dancer later into filming.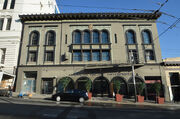 Residence
The cast lived at 1244 Sutter Street in San Francisco. The house was the former location of the Avalon Ballroom.
Cast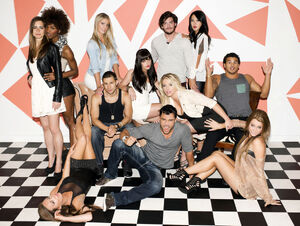 Note (*): Age at the start of filming.
The Exes
Episodes
| # | Title | Original Air Date | Viewership (in millions) |
| --- | --- | --- | --- |
| 1 | "Excess Baggage" | January 8, 2014 | 0.94 |
| 2 | "A Numbers Game" | January 15, 2014 | 0.99 |
| 3 | "The Departure" | January 22, 2014 | 1.29 |
| 4 | "Ex-otic Encounters" | January 29, 2014 | 1.36 |
| 5 | "Ex-Plosion" | February 5, 2014 | 1.54 |
| 6 | "First Love Fools" | February 12, 2014 | 1.75 |
| 7 | "The Test" | February 19, 2014 | 1.45 |
| 8 | "Betrayed and Beatdown" | March 5, 2014 | 1.38 |
| 9 | "Indecent Ex-posure" | March 12, 2014 | 1.43 |
| 10 | "Burned to Ashes" | March 19, 2014 | 1.32 |
| 11 | "It's Go Go Time" | March 26, 2014 | 1.16 |
| 12 | "The Ex-odus" | April 2, 2014 | 1.18 |
| - | "Reunion" | April 7, 2014 | - |